Joined

Jul 12, 2019
Messages

48
Many modems can be unlocked directly via unlock code while some can be unlocked via custom firmware down gradation method. Mkey dongle can unlock almost all devices. Recently the team has launched MKey v7.0.1. In this version MKey team has added ZTE modems with ICERA CPU: ZTE MF186, ZTE MF195, ZTE MF665K, ZTE MF665L, ZTE K4510.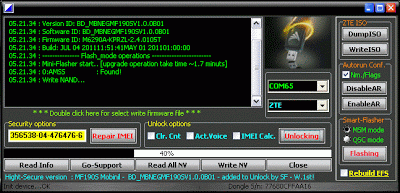 MKey MiniFlasher 7.0.1
MKey does not support only above mentioned models but also S – Series [ZLock – SECURED].
In ZTE modems, Mini Flasher team has Added:
ZTE MF190S IDEA_IN_MF190SDV1.0.1B05 -Idea
ZTE MF190S VIE_VN_MF190SV1.0.0B07 -Viettel (Vietnam)
ZTE MF190S BD_VIELAMF190SV1.0.0B02 – Viettel (Laos)
In this version some Standard NON-Customized Huawei modems has been also added:
Direct unlock all version without any credits
Direct unlock all versions with 10 wrong codes inserted
Presently there is no direct download link is available. Users who want to download MKey v7.0.1 can download the old version. After downloading the old version go to
Support
and from there you can download Mkey_v7.0.1_Build_10.SEPT.2012.zip.
Update :
Download Mkey_v7.0.1_Build_10.SEPT.2012.rar (Link deleted as it is detected as virus)
Users can download latest version Mkey software from
this link
.